Adopting a Friend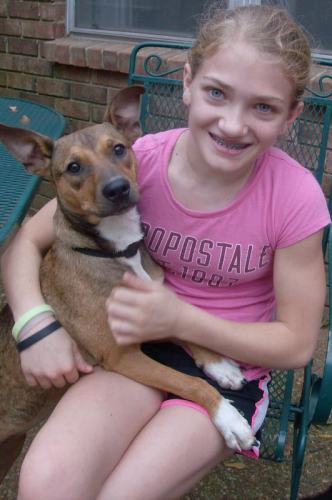 Owning a pet is a lifetime commitment. Our adoption program is designed to ensure the placement of our animals into permanent, responsible, and most importantly, loving homes. To help us achieve this, our adoption procedure and our screening process is very thorough. We make every effort possible to correctly match animal and human so as not to subject the animal to further rejection or abandonment. The sad truth is thousands of animals die each year because irresponsible owners neglect them, let them breed uncontrolably or just decide they are no longer wanted. We want a better life for these animals and work very hard to see they are adopted into wonderful homes of thier own.
Potential adopters are asked to complete an application and sign an Adoption Agreement. The application will ask for information such as personal info, personal and veterinarian references, and have basic questions which will help us to determine which pet will fit best into your home and family. We are looking for homes that understand that adopting a pet is a 10 to 15 year commitment to love and care for the animal and its needs.
Our adoption fee is $100.00 for dogs, unless noted otherwise. The adoption fee may vary depending on the posted pet's shelter. In addition to completing the application, potential adopters must have an interview with an adoption counselor, and a home visit with the pet. A fenced in yard is required, unless otherwise noted by the pet's rescue organizations if not MARL, or fence requirement is waived by referral.
All animals have had vaccinations, been spayed or neuter, heartworm tested and are currently on heartworm prevention, and are microchipped. All dogs are kept in foster homes, inside, and are kennel trained.
Adopting a new family member should involve a well-thought out and deliberate process. This is not an impulse purchase. Please understand that we do not want these animals to be homeless again. We try to complete the process as quickly as possible and appreciate all the applications and will consider each and every one we receive.
We know how excited and anxious you are to adopt your new pet. We know it is hard to understand why the adoption process is so lengthy and may seem a bit cumbersome. We know it is hard to understand why it can take awhile to get your call returned or your application processed and we apologize for the inconvenience. We ask that you be patient and understand we are volunteers that receive more requests, phone calls, applications, and emails than we can possibly return in any given day. We are absolutely overwhelmed with homeless animals that need our care and attention and spend most of the day rescuing animals from shelters, taking them to the vet, doing homevisits, processing applications, checking references, and doing Adoption Days and other events. The list goes on and on. Just one sick rescue can throw us off schedule, not to mention we have families and pets of our own and sometimes even we get sick and need time as well.
It's no uncommon to receive many applicants for the same dog. In this case, we try to make the best possible match based on the information we have gotten during the application process. Sometimes the dog you're applying for might already have an adoption pending or may actually "fit" better in a different applicant's home. In this case, we will try to notify you as soon as possible and you may choose to consider another available dog or continue with the process for "pre-approval" on a future dog that becomes available. Approved applicants are contacted first.
NOTE: We prefer to adopt in the Mid-South AREA, usually no more than 1-2 hours away in driving distance. It is up to the foster home, how far they are willing to drive. We rarely adopt long distance, but will consider each and every application.
Thank you all for understanding our application process!